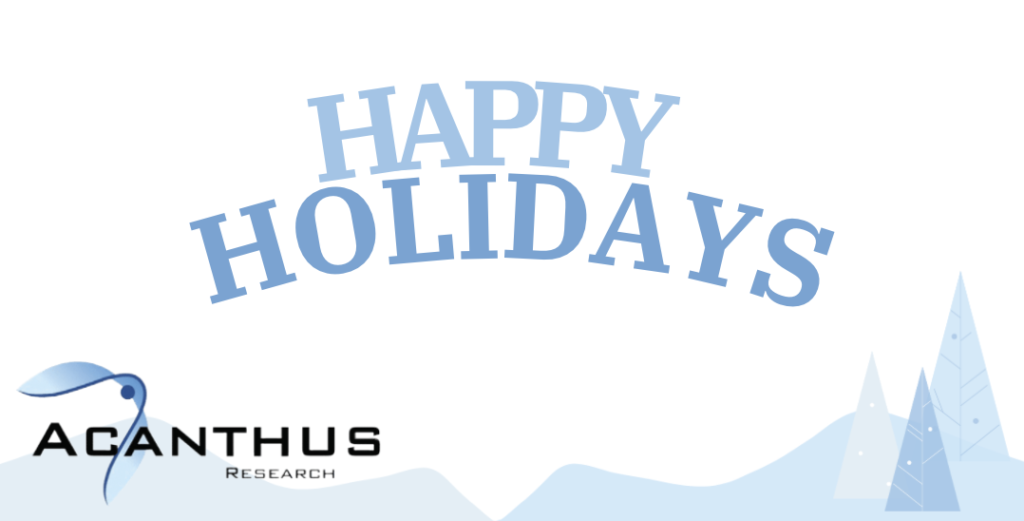 Dear Acanthus Employees, Clients, Associates, and Colleagues,
With warm hearts, we at Acanthus Research Inc. and Acanthus Pharma Services Inc. write to you today on the occasion of the 2021 Holiday Season. This has certainly been an unexpected year for us all. We have had a busy year; evidence of our Acanthus team's tenacity, dedication, and professionalism is the number of products made and entered into the product database and are now offered for sale. The number for 2021 is close to 100 different products, about 185 g total. The products fall into two main categories. One is stable isotope-labelled compounds, and the other is the impurities of drug substances. We are grateful to our chemists and team for their contributions and tireless efforts to meet the year's demands. We were incredibly fortunate and will not soon forget the support we received.
COVID-19, when it hit, it hit hard, some less so, some much more severely. At Acanthus Research and Acanthus Pharma, the impact was comparatively mild. We have been in uninterrupted operation throughout the past year, observing protocols, work, and jobs remained secure. This was not true for Toronto's art community. It has been hit and hit very hard. Many young people found themselves without jobs, their careers derailed, and finding a new path. Through a fateful sequence of events, Acanthus was able to extend support to the Toronto arts workers and associates by launching Stoic Beauty's cosmetic line. Stoic Beauty is led by Maria Wodzinska, who launched a line of cosmetic products with the help of Elizabeth Colleran, Amelia McCarthy Blaine, Nora Smith, Nina Wodzinska, and many other contributors. Stoic has launched 12 SKUS since Oct. 2020 and is sold in four retail locations in Toronto.
This year's events called us all to remember the importance of the age-old story by Charles Dickens, A Christmas Carol, which reminds us that everyone has the ability and capability to behave in kinder and more giving ways to one another. In this spirit, we draw your attention to the following organizations to support and show generosity and good cheer to in Toronto:
Swim Drink Fish is a nonprofit organization working to connect people with water since 2001. Using community science and communications technology to inspire people just like you to know and safeguard your local waters. Together we can make a swimmable, drinkable, fishable future.
Red Door Shelter When families have nowhere else to turn, they find sanctuary and support at the Red Door. Including moms who have bravely fled abuse to keep their kids safe, refugees seeking sanctuary from war and violence, and families in crisis with nowhere else to go. Your support helps each family who comes through their doors to heal and build a brighter future.
Little Free Pantry Please consider giving to a Little Free Pantry in your area. Suggested items are canned foods, dry pasta, tomato sauce, rice, beans, cereal, granola bars, hygiene products. Click here or here for Daily Bread Food Bank's list of high-demand items.
We wish you a merry, safe and healthy Christmas and raise our glasses to a better, braver, and bolder new year.
With thanks and great appreciation,
Stefan, Jola, Ewa, John, and the Acanthus Teams