Acanthus Research Inc. | As of March 10th, 2022, in support of Ukraine we will be withdrawing the sale of our products from the Russian Market.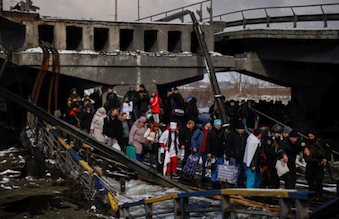 Dear Colleagues, 
Scientists are no strangers to the microscopic. Even the smallest particles contribute to world-shaping, awe-inspiring phenomena. It is in this spirit that we are taking our part, though small, in solidarity and support of our Ukrainian colleagues. As of Friday, Thursday 10, 2022 we are withdrawing our products from the Russian market.
While our company's footprint in Russia is small, this choice is more than symbolic. Every atom has its power. We hope our actions, in alignment with our values, will contribute to a chain reaction. If all companies like ours are united, our force can be powerfully felt even miles across the globe.
Acanthus strives for excellence, not only for its customers, but as a symbol of the responsibility of the scientific community: we are stakeholders in democracy, intellectual freedom, and international collaboration. We are a global company and part of a global community. This is a connection that makes us stronger than forces that seek undemocratic power through violence. We ask that you, our esteemed colleagues and peers will consider joining our collective action.
Please see here a link to Peter Kolchinsky's call for all Life Sciences Companies to boycott the Russian market. We stand firmly in support of this call to action:  Call for Business Leaders to Economically Disengage from Russian Industry
We stand with Ukrainian soldiers, civilians and their families who are fighting bravely for their freedom and grieving deeply. We are firm in our condemnation of Russia's military aggression and wish to support values of peace, democracy, and international cooperation. As chemists, we are determined to do all we can to support our Ukrainian colleagues. And to our dear Ukrainian friends, please contact us directly at inquiries@acanthusresearch.com or  jwodzinska@acanthusresearch.com if there is anything else we can do to help. 
Слава Україні (Glory to Ukraine),
Jolanta Wodzinska Ph.D.
Co-Owner & Director, Business Development at Acanthus Research Inc.
John Tobin Ph.D.
Co-Owner & Director, Analytical Development at Acanthus Research Inc.
Ewa Tobin M.Sc.
Co-Owner & Director SIL at Acanthus Research Inc.
Stefan Wodzinska Ph.D.
Co-Owner and President, Acanthus Pharma Services Inc.

March 10, 2022 |Mississauga, Ontario, Canada